Santa gets Incorporated!
Disclaimer: this blog is not intended for people who are still children in their hearts.
---
Some of you know that I have been regularly consulting for Santa Claus on marketing and business matters ever since I met him by chance in a Finnish sauna in 2008.
2017 has brought some major changes in my professional life. The main one was leaving the cozy protected corporate life to strike it out as a full fledge marketing and business consultant.
Having gone through this somewhat painful process, I suddenly realized that my biggest client, Santa Claus, was terribly exposed.
With our business relation history, I knew I could go straight to the point.
"Hi Santa, do you realize that Mother and you are terribly exposed? I just realized that you are still operating as a home and personal business. This can expose you to the most terrible things. Imagine that you set a house on fire while scrambling down a chimney or that parents sue you for their epileptic kids? You are basically sitting in a time bomb."
"Ahh Christian, I sure that you are exaggerating." Said the familiar gruff voice. "What are your you trying to sell me this year?"
"This is no joke – didn't you read about the German who sued Easter Bunny for chocolate addiction? Bunny is now being called a sadistic and unscrupulous offender. Santa, it's time you get incorporated!" I royally announced.
Santa normally sees the wisdom of my words pretty quickly and it didn't take long for him to get excited on the possibilities. Luckily Finnish efficiency allows most of the paperwork to be filed online saving Santa a 800km sledge ride down to Helsinki.
The first snag came when we found out that Santa Claus Ltd was not available. Nor was Santa Claus Inc. As we went down the list he became increasingly grumpy and agitated. We finally had to settle for Arctic Circle Santa Claus Finland. Not the most sexy but workable.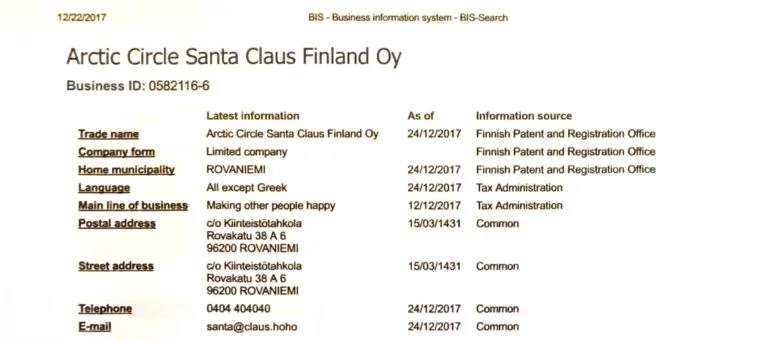 Somehow the Elves got to hear about the change and also got really excited. Turned out that the Elves had been working the last 6 centuries for just food and lodging. (Yes there is a word for this). This led to a fierce negotiation as the Elves threatened to walk out beginning of December. With sharp negotiation skills, we manage to conclude a good deal:
Base Salary: 5 € per day
Holiday overtime: 3x
SantaCare health insurance: 50 € per year
Housing allowance: 0.25 € per day
Employer contributions: 25%
Total: 3 020 € per Elf
You must admit that is quite a good deal from an employer perspective. At least until you figured out that Santa had 33 111 Elves currently working on his non existent payroll.
This put the total new labor cost just shy of 100 000 000 €. Thank God, Finland gives a tax relief for the first employee.
With the first base covered – the protection of Santa's personal home and assets. But we did need to set up a whole range of liability insurances. Employee liability insurance to cover any accidents in what is one of the world's biggest mass scale gift factory.  Public Liability Insurance to cover any property damage such as causing chimney fires or harm caused by presents falling of the sleigh. Professional Indemnity Insurance in case of errors – imagine the well-behaved boy not getting a gift, or getting the wrong gift. On top, this would also cover data protection (important with all the under age correspondence), legal defence and eventual compensation fees. Commercial Property Insurance is also pretty critical for Santa Claus. Living isolated, far from emergency services, and insisting on candle lighting can be a recipe for disaster.  Finally, a good Commercial Vehicle Insurance would cover any breakdowns of the Santa Sleigh. After a lot of googling, Ashburnham Insurance in the UK managed to come up with the perfect premium.
For some strange reason Santa Claus has gone silent on me over the last weeks. Oh well, I imagine he must be basking in the warm sense of security and protection that Arctic Circle Santa Claus Finland Oy provides. Finally sheltered from harm and accidents. Well nearly.
It would be great if you could download and fill out the attached disclaimer for Santa. Conveniently shaped as a door knob tag,  easily you can place it for Santa to collect. You know, just in case.
Meanwhile I wish you all and your families all the Best Seasonal Greetings.
Santa gets Incorporated !