Spoiler alert: this article is not intended for people who are still children in their hearts.
As some of you may know, its been nearly ten years that I have been consulting Santa Claus in marketing matters. It all began with a chance meeting in a sauna in Helsinki in 2008. Since then I have had the privilege to redefine his brand in order to standout from the streetwise generic Santa, rework his social media presence, a takeover attempt on Easter (which failed because the Bunny could not keep still).
As most customers, Santa calls me when things are going sour. I wasn't particularly surprised then to get a call from Santa late October.
"Hi Christian, it's me Santa", growled the familiar voice over the phone.
"Hey Santa, great to hear from you." I replied. "I was just thinking about you the other day. What's up?" Just a side note, if you ever do get the privilege to meet Santa, I suggest that you be less colloquial. He is quite procedural.
"I'm running out of ideas. I'm getting all the letter requests. Half of them I just don't understand. What exactly is a "Anki Vector Robot Sidekick"? And then the other letters just contradict the first bunch. It's getting pretty urgent. We are already in October and my Elves are idle waiting for instructions", Santa explained.
"OK. Don't panic. After 500 years its does happen that a value proposition gets slightly out of touch." I smoothly rolled into my consultant speak. "I see it happen every day. People want an unique experience today on top of the standard gifts and delivery. The good news is that I'm trained on the Strategyzer Value Proposition Design methodology. A quick 2 day workshop should solve the problem."
Nothing beats Santa's logistics in less than 6 hours we were assembled in Santa's familiar living room up in northern Sweden. Familiar faces were around the table: Mother Christmas for her feminine view as well as Elvese, the head Elf, for his operational skills. We decided to add Rudolph who was still a bit depressed after learning that reindeers are color blind and that none of his deer mates could actually see his red nose.
We quickly aligned on the target customer for Santa – any human who is still a child in the heart – and created the associated persona we could get to Strategyzing.
It didn't take long to analyse the situation. The new value elements just jumped out of the canvas.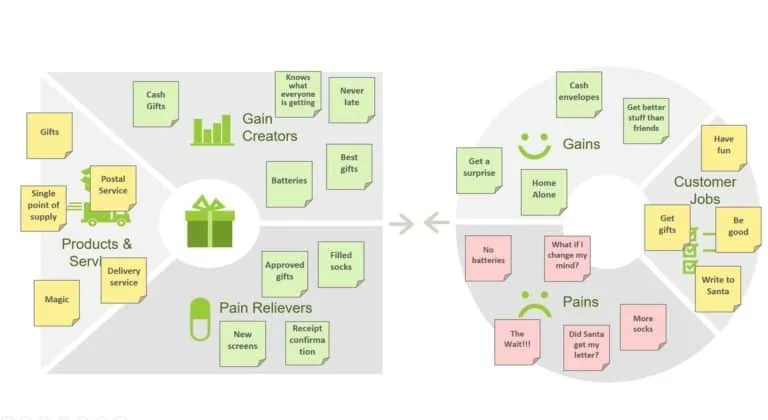 We are still hesitating which one to adopt :
Less stress: automatic receipts of letters for basic subscribers to Santa Services. Up to 3 changes in a wish list for Premium subscribers
Stand Out: know what your friends wish for (Basic) and get season exclusivity (Premium)
Santa Cash: allow aunts and uncles to send cash envelopes (Basic). Auto reminders to aunts and uncles 3 weeks ahead of Christmas (Premium)
If you can't wait to see the final decision then just comment below. Or else just another 12 hours of patienceque
Santa crafts a new Value Proposition